AN ESSENTIAL TOOL FOR YOUR SERVICE AND SALES STAFF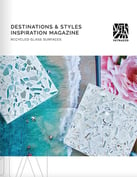 Whether you're looking to learn about Vetrazzo for the first time, or simply to have a complete tool for your team, the Inspiration Magazine is just what you need.
This magazine is a collection of the basic technical and marketing information for all Vetrazzo products, for all the trades.
It's an excellent prelude to more complete technical documents, which you will need while working with Vetrazzo.
The inspiration mag is intended for:
architects and designers
fabricators and distributors
sales and support staff
Fill out this short form to download it >>